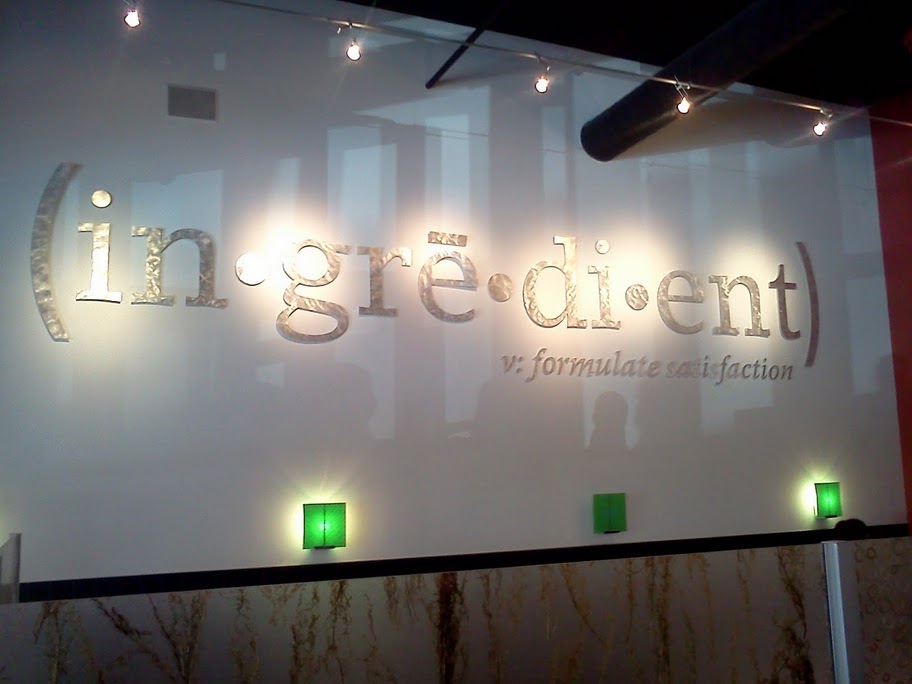 Sunday afternoon was my first time to visit ingredient restaurant on the plaza.  I don't know anything about the history of the restaurant, but I thought it was interesting that the sign says "Chef Owned!", especially now that I see on their website that there are nine locations and that this is a franchised concept.  I had heard that it was a somewhat unique concept in that it is almost fast food, yet you are able to essentially build your own dish by selecting the sauces and toppings that you want.
Being a Sunday afternoon around 1:00 on the plaza, I was expecting it to be fairly busy, but was surprised to see that the dining room was mostly empty.  By the time our whole party had arrived, we had looked over the menu and several of us were salivating over some of the delicious sounding breakfast items prominently displayed on the menu boards.  We then approached the counter to order, where a few people waited in line to order from the lone cashier, who seemed to be the only person in the restaurant that wasn't in the back of house.  As we became first in line, we proceeded to give our order.  That's when we were informed that breakfast was only served until noon.  Hmm… you'd think that would be something they would mention on their menus, or at least somewhere in the restaurant.  So we stepped out of line and decided all over again.  When we stepped back into line, there were about 5 people behind us.  In the middle of our ordering, a person farther back in the line offered the following advice to the cashier, "Shouldn't there be more than one of you taking orders?"  This prompted the cashier to stop taking our order, visit the kitchen to request help, then make a phone call to another part of the store before finishing our order.  Having ordered chocolate milk for children, the cashier then left the register and spent approximately 5 minutes hand mixing chocolate milk and delivering it to our table, again leaving one cashier (the new one that came to help) catering to the growing line of patrons.
Needless to say, we weren't impressed up to this point.  Although the doughnut holes had been recommended to us, we assumed that this was part of the breakfast menu and instead ordered two main entrees: A falafel sandwich and a pizza with banana peppers, pineapple and fresh mozzarella.  Both of these items came out quickly and looked delicious, although the sandwich had tomatoes which was explicitly requested to not be there.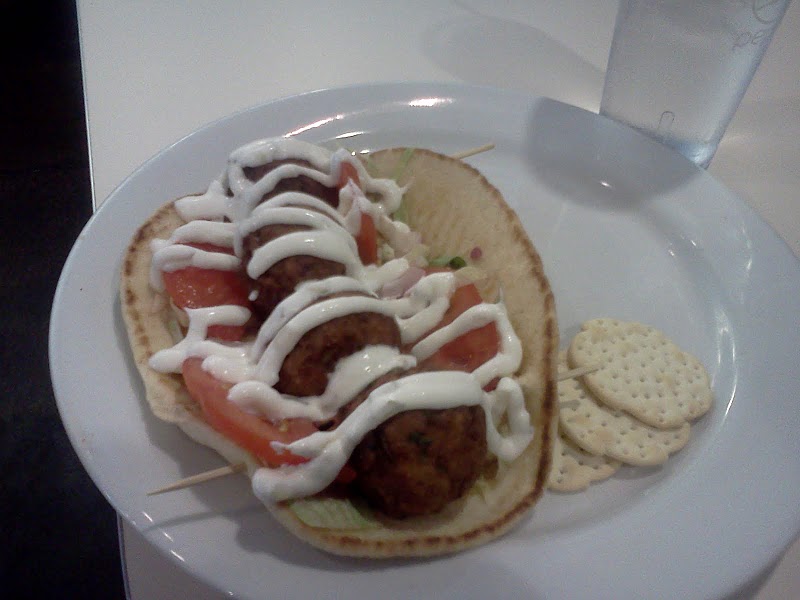 I really don't have anything bad to say about the food.  The sandwich could probably actually do with one fewer falafel since they tended to try to squirt out one end or the other, but I'm not complaining.  The pizza was unique for a restaurant of this style.  I even think I saw a brick oven in the back.  For $10, the pizza was well-priced.  I guess for a restaurant on the plaza, I was just expecting better service than I might get at a Panera.