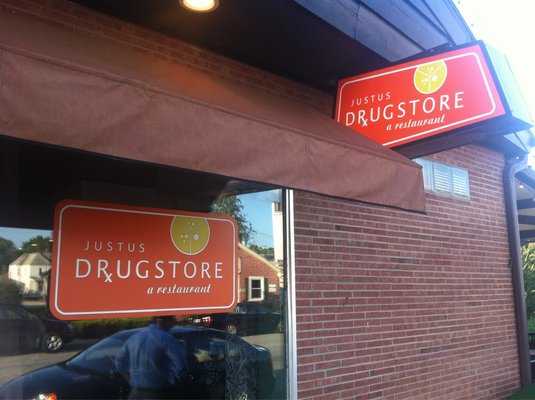 If you're not familiar with Justus Drugstore, you need to be.  Chef/Owner Jonathan Justus and his wife Camille opened a restaurant several years back in the old pharmacy that his mother had worked at for decades.   This is just one of the many things that makes dining here a memorable experience.  Situated in an unassuming small brick stand-alone building sits this crown jewel of the Kansas City area.  Actually this is in Smithville, MO, so you'll have to drive a little bit to get there, but it is worth every mile and worth every dollar.
Having never been here, I wasn't sure what to expect.  I called on Wednesday, hoping to get a reservation for four early Saturday evening.  I was told that they should be able to squeeze us in at 8:30.  I was also told that it may take a little while for us to be seated when we arrived because they will have around 20 being seated at that time and those who arrived at 5:30 may not have vacated their tables by that time.  Yes, you heard correctly, the tables that were seated three hours previously may still be filled.  Thus, the quote on the Justus Drugstore website: "Cooking is not about convenience and it's not about shortcuts…… Our hunger for the twenty-minute gourmet meal, for a one-pot ease and prewashed, precut ingredients has severed our lifeline to the satisfactions of cooking. Take your time. Take a long time. Move slowly and deliberately and with great attention.." ~ Thomas Keller 
Our party had an experience that most won't have, but it just made our evening that much more exciting.  When we arrived, we were informed that it would be a few minutes until our table was ready and we were invited to have a seat at the bar.  Next thing we know, we glance into the kitchen and see Chef Curtis Stone talking with the staff.  Yes, we're talking about Curtis Stone of Take Home Chef, Top Chef-Masters, and numerous other shows, not to mention his cookbooks and line of cookware.  He was in a rush to leave, but I was able to capture one blurry photo of him posing with the kitchen staff.  We also overheard his handler talking with Chef Justus near the bar for a few minutes after he had gone.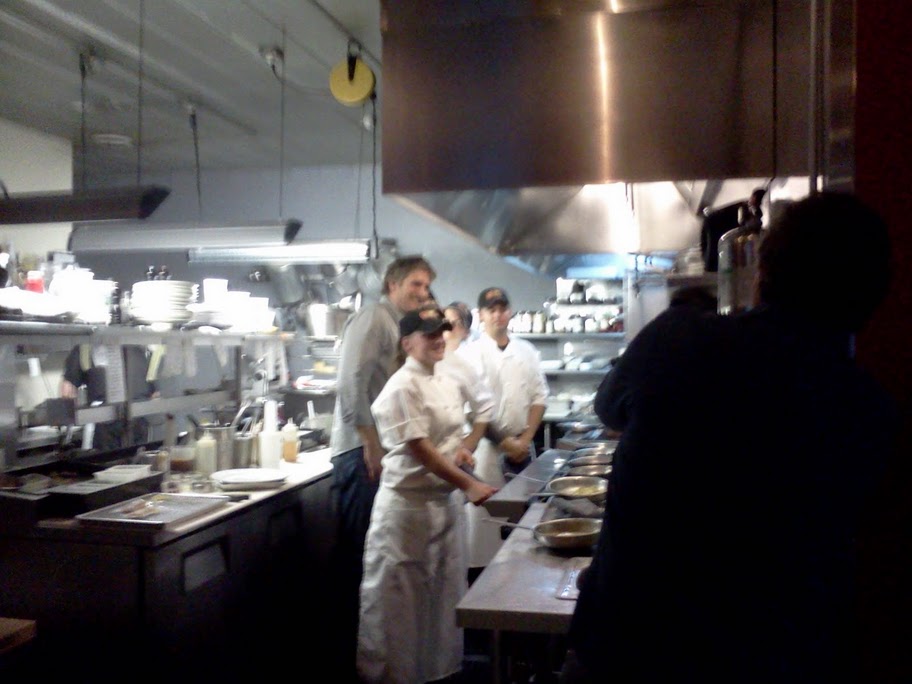 I wish I had pictures of all of our dishes and a detailed description of wonderful tastes and flavor combinations that we enjoyed, but I neglected to grab a menu to bring home and really it was kind of a whirlwind experience and it's all a little bit hazy even after one day.  All I can say is that it was everything I had heard that it was and I was not disappointed.  Since this trip was on a my short list for places that I have to try in Kansas City, we decided to go all out and order items for every course.  Did I mention that our server was the chef's wife Camille?  That woman has ears like a hawk.  It seemed that every time we were discussing a flavor, she quickly appeared to inform us of the ingredients used in creating that particular taste.  Maybe we were just talking louder than we thought!
I will at least give you a quick rundown of the dishes that I personally enjoyed.  We were first presented with an amuse-bouche, which gave us the idea of the style of preparation for the rest of our evening.  It was a nice combination of textures and flavors.  We were also served fresh-baked bread with butter.  For our starters, we tried the farmers platter (a wide assortment including rabbit, bone marrow mousse and house made sausage) as well as a sort of tempura squash.  I don't remember exactly what that was called, but it was delicious.  My salad was the Nested Egg Salad which included a crispy soft-boiled egg on a nest of curly endive with goose confit.  One of my favorites was my main course, the Berkshire Pork 2 Ways.  This included both a grilled pork rib eye and pork shoulder sausage.  I loved the grilled rib eye, especially with the sauce on this plate.  This was also served over a perfectly seasoned quinoa.  Then came the desserts.  While not my favorite part of the evening, they were still good.  We tried a strawberry dish with lemon poppy seed cake and also the Chocolate Mint Decadence.  The chocolate ice cream served on this dish incorporates rose hips which gave it a unique flavor, but not necessarily one that added to the taste in my opinion.  A complimentary after dinner beverage was also served.  I don't remember details, but I know that it was made with honeysuckle.
Another great feature of this restaurant is the open kitchen.  We were able to see the staff at work throughout our dinner, including watching Chef Justus spend most of his time rolling fresh pasta through the machine.  As our dinner was completed, Chef Justus thanked us for dining with him and spent several minutes at our table discussing the appearance of Chef Stone and telling us about the 9 course meal that he had personally prepared for him.  Could he have possibly been scouting for a future TV show?  Maybe we'll see our own Chef Justus on the Food Network soon.
Overall, we had a wonderful experience.  Well, at least 3 out of 4 of us did.  Let's just say that one of our party would rather have meatloaf than Rabbit Terrine, but I think this person still enjoyed the company and the overall experience if not every item served.  This was the shortest 3 hour meal that I have ever had the pleasure of enjoying.
For those looking to try the food with a little less formality, I hear that they have a patio that now serves a different menu with courses that come out a bit quicker.  That's the only place that you'll find a burger at Justus Drugstore.