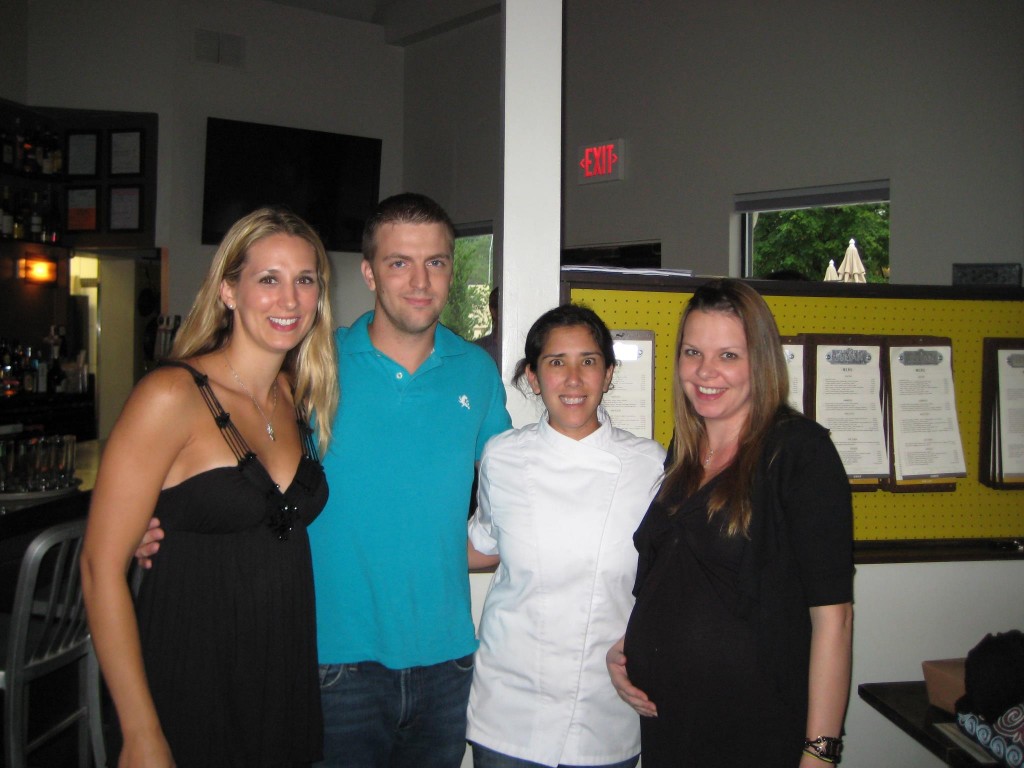 Yesterday, I enjoyed a nice evening at Julian in Brookside.  I had heard a little about this place, but not enough to have too many pre-conceived notions about what to expect.  What I did know is that the chef is a bit of a celebrity in Kansas City.  This is James Beard award winning chef Celina Tio.  You may have seen her before, perhaps on The Next Iron Chef or Top Chef Masters or perhaps you even experienced her cooking when she was executive chef at The American Restauarant.  Yeah, she's been around.  I also know that she is very active on Facebook and Twitter, where she often corresponds directly with followers.
One thing that I am discovering in the Kansas City culinary scene is that most chefs seem to be very open to meeting and conversing with their customers/fans.  Celina proved this once again.  I had mentioned to her on Twitter that we would be coming in on this particular night.  Though we had never met, she obviously recognized me from my picture as she said "Hi Matthew…Twitter follower".  That was a first for me, having the chef welcome me by name without having ever seen each other face to face.
Besides the welcome, the first thing I noticed when walking in was the warm, cozy, unpretentious feeling of this establishment.  The small dining room, the servers in t-shirts and shorts and the adjoining open kitchen all contributed to this feel.  Although casual, the service was nearly flawless as you would expect in a far more expensive restaurant.  The service was helpful without being overbearing and always had our needs taken care of in a timely fashion.  I wish that I could show you pictures of our dishes, but I still haven't figured out how to get good pictures in a dim dining room without being annoying.   Suggestions anyone?  Do I really need to bring in the camera with mini-tripod to every meal?  At least I will let you know what dishes we enjoyed this evening.
The server mentioned to us that Celina liked to describe her food as feel-good comfort food, or something to that effect;  I can't remember the exact wording.  We started with smoked salmon on deviled eggs with pickled red onions.  I think I am starting to fall in love with pickled onions recently.  Our dining partner had an off-the-menu crab cake.  Both were reported delicious.  For our mains, we tried papperdelle pasta with prosciutto and the crispy pork shoulder.  The pasta tasted homemade and was very good with the prosciutto and sauce.  I personally had the pork shoulder which wasn't exactly what I expected, but I wasn't disappointed.  It was in the shape of a short cube, crispy on top and served over a bed of creamy polenta with jus.  Now I truly was appreciating the comfort food reference.  The polenta and jus definitely hearkened back to good old homemade mashed potatoes and gravy.  The pork was tender and moist and pulled apart easily.  We finished by sampling a different dessert each, including cocoa bread pudding, "milk & cookies" cake, and chocolate ganache with stout caramel.  All were good in their own ways, although none of them blew me away, but they are definitely priced right and follow the comfort food theme.  My favorite was probably the cocoa bread pudding, though I would have enjoyed it even more with a more generous portion of the creme anglaise that topped it.
I would be interested in visiting again for brunch or lunch as they have completely separate menus.  The lunch is more like a prix fixe menu with the option of one, two or three courses with the three course option being an incredibly good deal.  I don't know if Julian is always this laid back, but this is definitely a place you can feel comfortable just coming and hanging out at.  We happened to notice the chef spending a bit of time playing on her phone while we dined.  Granted, we were there somewhat early and the place hadn't filled up yet.  The weather wasn't cooperative on the evening that we were there, but I know that Celina loves to get the patio open when it's nice outside.
This restaurant was on my short list of places in Kansas City that I had to try and it will definitely be going on my list of places to return to.  The prices are very reasonable for a restaurant/chef of this caliber.  If you haven't been there yet, this is a must-visit.