Posted on | August 7, 2011 | No Comments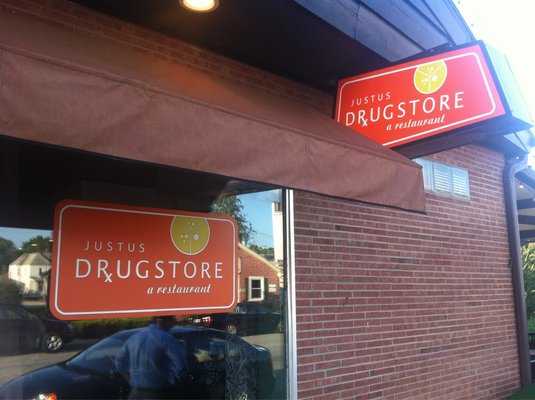 If you're not familiar with Justus Drugstore, you need to be.  Chef/Owner Jonathan Justus and his wife Camille opened a restaurant several years back in the old pharmacy that his mother had worked at for decades.   This is just one of the many things that makes dining here a memorable experience.  Situated in an unassuming small brick stand-alone building sits this crown jewel of the Kansas City area.  Actually this is in Smithville, MO, so you'll have to drive a little bit to get there, but it is worth every mile and worth every dollar.
Posted on | August 6, 2011 | No Comments
I attended my first class tonight at the Culinary Center of Kansas City.  No, this is not a large university culinary program, but a small building with two demonstration kitchens in a turn of the century buggy barn in the heart of downtown Overland Park.  This place seems to have a little bit of a cult following.  In fact, I met one gentleman today who says that he has probably been to 30 classes there.  When I looked for a class to sign up for a few weeks back, it was difficult for me to find an open spot in the next couple of months.  Luckily a spot opened up in the Tapas Party class and I jumped on the opportunity.  They host a surprising number of classes for a place this size.
Posted on | August 5, 2011 | 3 Comments
Am I already a foodie? Are you born that way, or is it something you develop over time? For starters, let's define foodie?
Wikipedia: An informal term for a particular class of aficionado of food and drink.
Urban Dictionary: A person that spends a keen amount of attention and energy on knowing the ingredients of food, the proper preparation of food, and finds great enjoyment in top-notch ingredients and exemplary preparation.
I personally like that definition, but let me give you a couple of alternative definitions from Urban Dictionary: Keep Reading –>
Posted on | August 2, 2011 | No Comments
Many members of my family met up today at Dickey's Barbecue Pit in Overland Park on 121st Street.  Apparently this is a franchise restaurant with two locations in Kansas as well as a presence in most states in the United States.   The Dickey family opened the first location in Dallas, TX in 1941.   It is a pretty standard fast food barbecue (or is it barbeque or BBQ?) joint, but with a twist or two that makes it stand out from the crowd.  Normally this isn't the type of restaurant that we would probably make it a point to stop in at, but overall, I'm glad we did. Keep Reading –>
Posted on | July 28, 2011 | No Comments
Discounts, sales, clearances, blue light specials. Whatever you want to call them, they only serve to confuse the customer. Confuse them into thinking they are getting a good deal, whether they really are or not. How many times have you found yourself looking at a clearance rack of clothing that says 30% off and in your mind tried to determine if the final price is a good price? I can think of one store right now that seems like they have their "sale of the year" every other month or so.
The true value of an item is getting lost in a flurry of marketing. Which is a better deal, the blender for $100 at Target where I get 5% cash back on my credit card, or the same blender at Macy's for $125, but I can use my 25% off coupon, or should I buy it on Amazon.com for $90 with free shipping but a painful return process? Can you imagine a time when you could walk into any store and the prices are directly reflective of the actual costs to the retailer? I'm guessing that this is the way it worked in the olden days when you went to your local country store. As competition crept onto the scene, retailers were forced to find creative ways to draw customers to their stores. Keep Reading –>
« go back
—
keep looking »