Posted on | August 6, 2011 | No Comments
I attended my first class tonight at the Culinary Center of Kansas City.  No, this is not a large university culinary program, but a small building with two demonstration kitchens in a turn of the century buggy barn in the heart of downtown Overland Park.  This place seems to have a little bit of a cult following.  In fact, I met one gentleman today who says that he has probably been to 30 classes there.  When I looked for a class to sign up for a few weeks back, it was difficult for me to find an open spot in the next couple of months.  Luckily a spot opened up in the Tapas Party class and I jumped on the opportunity.  They host a surprising number of classes for a place this size.
While it seems that the classes are geared towards the home cook, there are a few more advanced tracks, such as their 3-day Cooking Basics class and several 9 week programs, like their Pro Series Cooking Fundamentals class and the Professional Culinary Arts Series.
Having never been inside the school before, I didn't quite know what to expect.  I walked in to find a large demonstration kitchen complete with overhead mirrors, a tv feed of the chef, tables set for 24 students to dine and 6 prep tables for us to try out our newly learned skills.
Click any picture below for a larger size.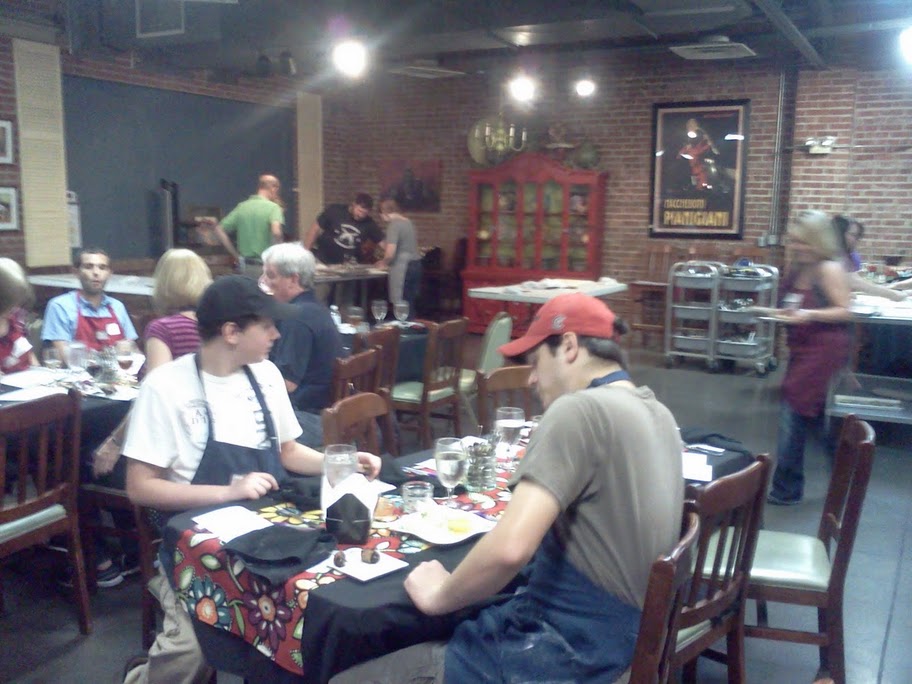 Chef Matt Chatfield ably demonstrated five different recipes for us and we copied what we saw.  The best part was that we were able to eat our new creations.  This was one of the "hands-on" classes.  They also have demonstration only classes, but that takes away most of the fun of taking a class like this.  Let me walk you through the evening and the dishes that we created.
Patatas Bravas with Spicy Tomato Sauce (on the right in the picture)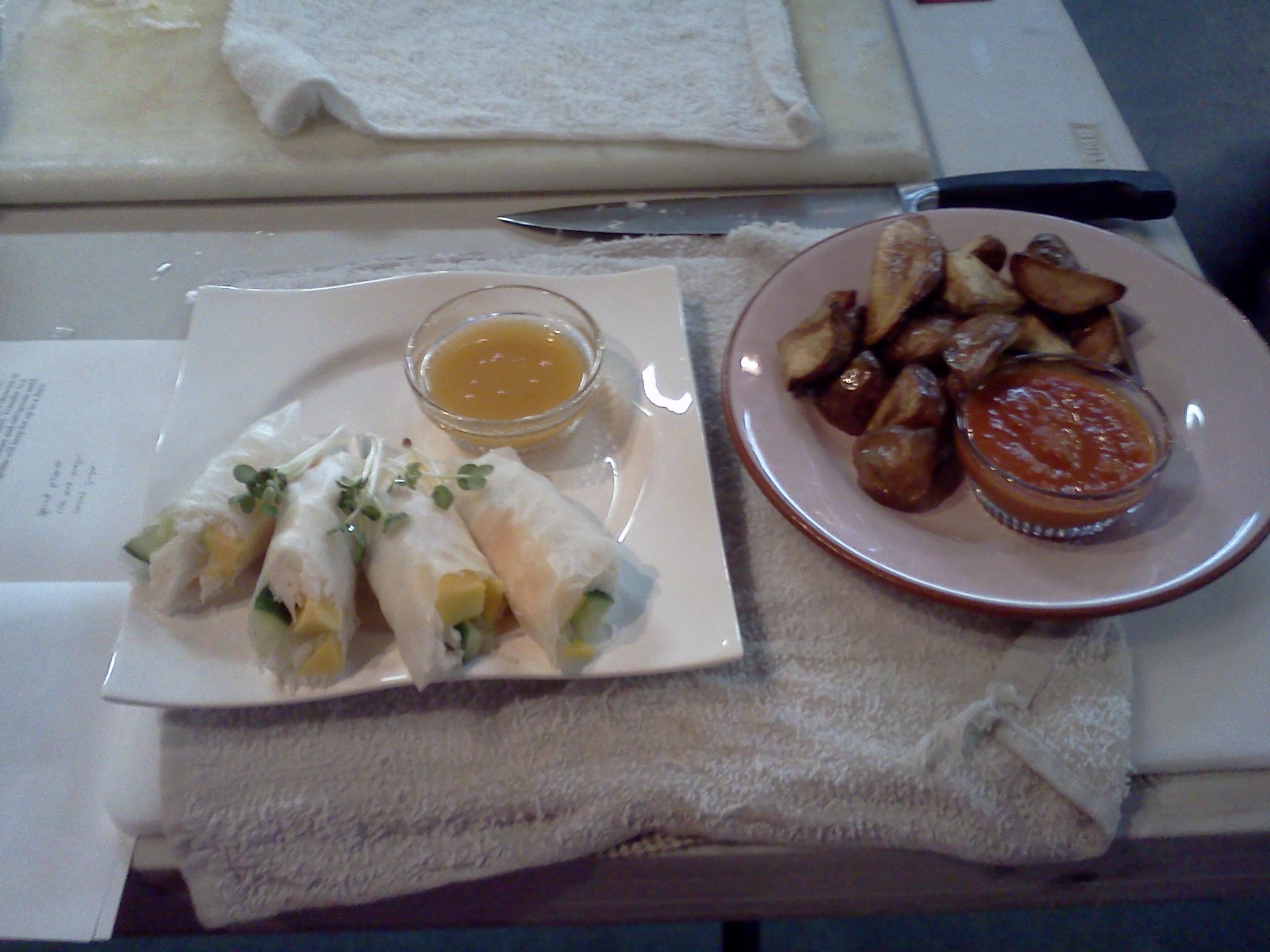 This is a very simple potato dish with a spicy tomato sauce.  Some may call these home fries or even potato wedges.  While a very basic dish, these were still delicious.  The sauce was a perfect compliment and a huge upgrade from simple ketchup.
Lobster Mango Spring Rolls with Apricot Vinaigrette (on the left in the picture above)
This is my first experience making a spring roll and it's easier than it looks.  Shhh… don't tell anyone.  These contained lobster, mango, cucumber, and rice noodles.  While the spring rolls on their own could be considered a bit bland, the sauce elevated the overall dish to a delicious level.
Bacon-wrapped Dates
These are bacon-wrapped dates with a twist.  I don't know that I'm a huge date fan, but these were beyond amazing.  They were so creamy and sweet, not at all what you might expect.  We pitted these dates and replaced the pit with a roasted almond and slice of cream cheese.  Then we wrapped them in bacon and baked them.  Simply awesome.
Cumin Cured Salmon with Tahini Yogurt Sauce (on the right in picture)
This is salmon that is not cooked in the traditional method.  This is cured, which is a form of a chemical reaction that cooks using spices rather than heat.  This was served on toasted slices of baguette and topped with the tahini yogurt sauce.  The sauce was wonderful and blended well with the flavor of the salmon.
Pineapple Empanadas (on the left in the picture above)
This is probably the simplest dough that I've ever seen (Flour, Cream Cheese, Butter), yet it was light, moist, flaky and delicious.  The pineapple preserves that filled the center was just enough sweetness to end a perfect night.
Review
Overall, this was everything that I had hoped for.  I was able to spend three hours learning new skills, meeting a new chef and sampling the fruits of my labors.  The only thing that I would have liked to have been able to do was to make my own sauces.  The chef made the three main sauces, but I know that this would have been next to impossible in this particular class.  I believe that they may have other classes that focus more on one or two dishes that may allow you to create the complete dish from scratch.
Also, I would recommend attending with a friend or two or three.  We were divided into groups of 4 and then further sub-divided into teams of two.  Being there on my own, I was paired with another solo.  It all depends on your partner, but it was a bit awkward dividing responsibilities with a complete stranger when you are both there to learn and would like to do everything on your own.
I would definitely recommend this to anyone who wants to hone their culinary skills or is just looking for a new recipe or two.  It's a lot of fun and is well set up.  Let me know if you want to be my partner next time…
Comments